FORMATION PROFESSIONNELLE – BOOGALOO AVEC THONY
Qu'est-ce que le Boogaloo ?
Cette danse qui assemble la fluidité, les impacts, la robotique et les mouvements circulaires a été créée par Boogaloo Sam et son groupe, The Electronic Boogaloo Lockers dans le courant des années 1970.
Inspirés par les mouvements des dessins animés, du mime et de la vie quotidienne, The Electronic Boogaloo Lockers ont inventé plusieurs styles de danse notamment le Pop et le Boogaloo.
Thony MASKOT
Pionnier du Hip Hop en France et Activiste pour le développement de la culture Hip hop :
Il crée la première compagnie féminine de danse Hip hop en France « les Ladies Night ». Elles font les premières parties des concerts marquants de l'époque tels que: Big Daddy Kane, Ultramagnetic Mc's, Public Enemy, Queen Latifah, Arrested Development…
En 1991/ 1992, il travaille avec MC Solaar.
En 1995 Christian Tamet et le TCD réunissent les leaders de chaque compagnie pour monter une création chorégraphique réunissant les 20 meilleurs danseurs : Sobedo – un Conte Hip hop  pour une tournée nationale.
En 1996 le premier Festival des Cultures urbaines de la Villette présente les créations des meilleures compagnies. Thony Maskot présente sa création " Planète hip hop " avec « Un point c'est tout » (Thony Maskot figurait sur l'affiche du festival). Ce spectacle part en tournée internationale.
Il fait venir Pop'n taco (Bruno Falcone) en France pour la première fois.
Il crée la première école de danse Hip Hop en France. Pop'n Taco devient le parrain de cette école.
Pour se perfectionner dans le langage chorégraphique et scénique Thony rencontrera, à travers des stages, des grands noms de la danse comme Philippe Découflé, Dominique Boivin, Caroline Carlson, Montalvo et Hervieu.
Thony a formé de grands danseurs, entre autres Regis Truchy, Joseph Go, Maryss from Paris, Meech Onomo, Jeskilz (Rock steady Crew)… reconnus à travers le monde.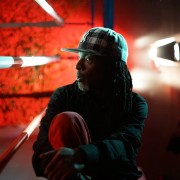 Thony Maskot
Professeur de Boogaloo
Ecole de danse Kim Kan