C'est la plus ancienne des « danses debout », créée par « Don Campbellock » et son groupe « The Lockers » au début des années 1970.
Avec leur popularité, « The Lockers » ont révolutionné le monde de la danse et posé les fondations pour toutes les autres formes de Street Dance.
Le locking est un mélange des danses de club des années 1970 et des mouvements acrobatiques des danseurs de claquettes régit par un principe de décomposition des mouvements et « d'arrêt sur image ».
Il est marqué par des sauts, des mouvements pointés et roulés des bras, des mains, des jambes et des pieds, le tout réalisé de manière très rapide, rebondie et entrecoupée de courts moments de pauses, sortes d'arrêts rythmés propres à ce style…
ANGE Ismael KOUE
Ange Ismaël KOUE aka Elfonkyjuice arrive en France et met en place dès 1989 son premier groupe « Créateur Unique » (danse et rap).
Cette double passion pour la danse et la musique va l'amener, de 1989 à 2000, à partager son temps entre ces deux univers.
D'une part, en danse, il participe à la formation du crew « OPosse » (91-95) et intègre, en 96 la compagnie « Boogie Saï » (96-98 tournées nationales et internationales).
Dans le même temps, il approfondit sa formation de 95 à 99 auprès de Brian Green, Suga Pop, Sketer Rabbit, Poppin Taco, Wiggles, Poppin Pete, s'initie à la danse Jazz, à la Capoeira, à l'acrobatie et s'ouvre à d'autres expressions scéniques en tant qu'assistant chorégraphe et danseur de Pierre Doussaint (98) lors des Suresnes Cité Danse.
Ange Ismaël KOUE est toujours actif dans le milieu de la danse, il donne toujours des cours (Hip-Hop, Locking, Hype, Boogaloo pop). Dans le milieu des Battles nationaux et internationaux, il est souvent membre du jury (juge Hiphop au « Juste debout » en 2009, juge Locking en Estonie 2012, juge hip hop au « Flavorama » battle en Autriche etc….) depuis 2010, il danse avec le crew « Serial Stepperz ».
En 2013 il crée un groupe de danse « HYPE 'N' SPICY » avec les meilleurs élèves de son cours.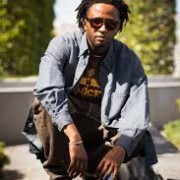 Ecole de danse Kim Kan