Danse basée sur des contractions musculaires localisées et rythmées, des pulsations du mouvement corporel, décomposé ou non.
L'arrière du bras, la poitrine, les jambes et le cou sont les parties du corps le plus souvent mobilisées en popping.
Cela donne l'effet d'une décharge électrique ou d'un automate.
Dès les premières heures du Hip-Hop, Fox s'est lancé dans la danse. De 1984 à 1990, ce fut le temps de la formation, au Trocadéro, au Bataclan, salle Paco Rabanne. C'est en 1994 qu'il a retrouvé Aktuel Force, désormais compagnie, pour commencer une carrière professionnelle et être parmi les premiers à danser dans les théâtres. Finaliste du « Battle Of The Year » en 1995 avec Family, Fox a parcouru le monde entier en image, à travers les vidéos de cette finale historique.
Cette compagnie fut parmi les premières à porter la danse Hip-Hop sur les plus grandes scènes : Châteauvallon, La Villette, Suresnes ; la France, l'Europe, l'Afrique ; avant-première de Maurice Béjart et de Pina Bausch. Parallèlement, Fox a tourné des vidéos clips (MC Solaar, Rohff, Paul Johnson).
En janvier 2001, il a remporté le « Hop Side Dance » au Mcm Café. En 2004 il fonde sa propre association, « Mad' In Pop », (Magiciens, Artistes, Danseurs In Pop) et en 2009, il monte sa propre école de formation en danse Hip-Hop.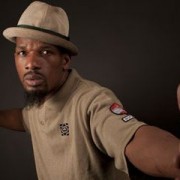 Ecole de danse Kim Kan